100 Women's Fitness Cardio Training Shoes - Black/Pink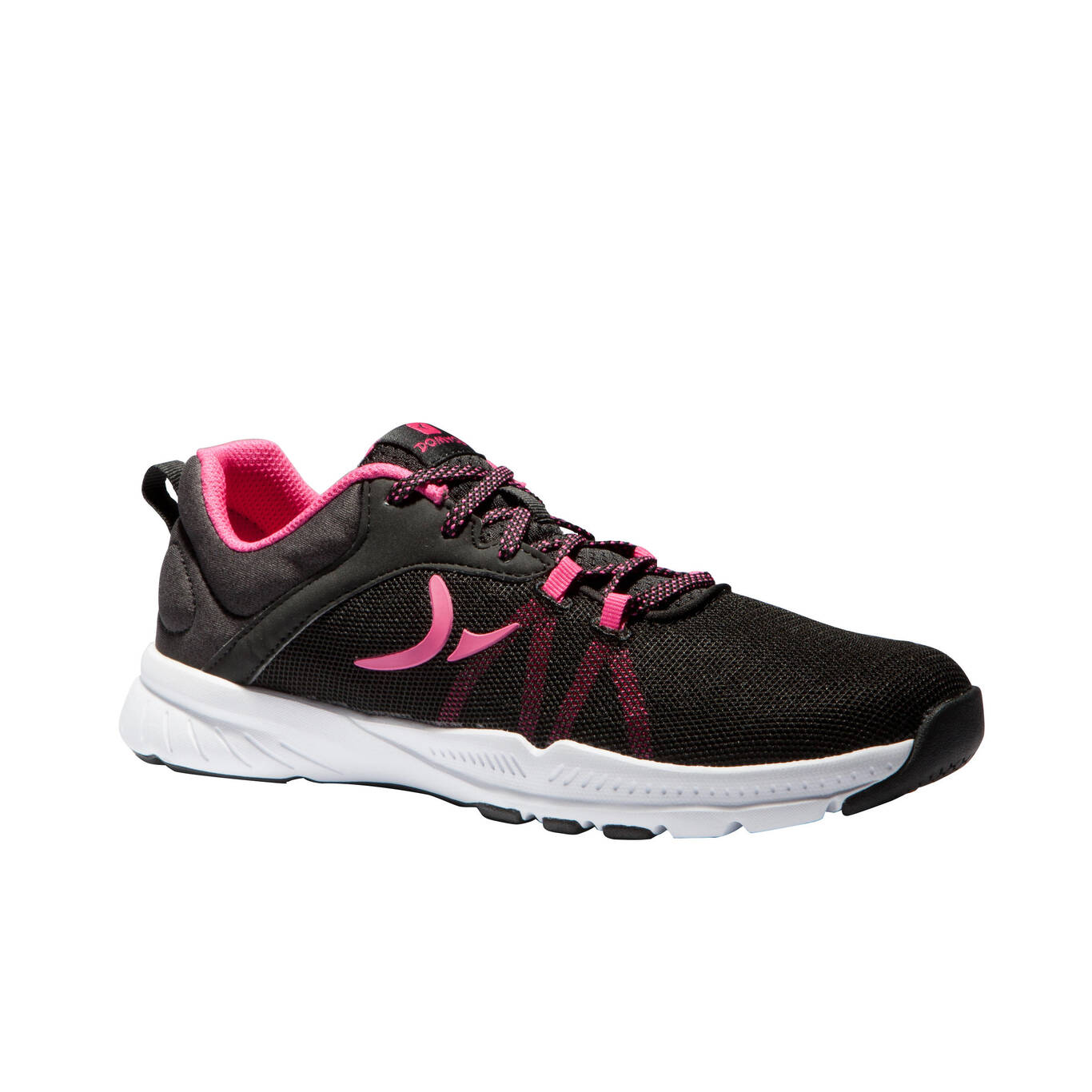 Home Delivery
Within 48 Hours
Available
Click & Collect
Pickup in store within 4 Hours
This product is currently unavailable for your region
Please select a size...
For beginners or sports users getting back into fitness.

The women's 100 cardio fitness shoes have grooves at the front of the foot to promote natural foot movement and changes of direction.

Upper of: 20.0% Polyurethane, 80.0% Polyester; Outer sole of: 30.0% Synthetic Rubber, 70.0% Ethylene Vinyl Acetate; Lining and sock of: 100.0% Polyester
BENEFITS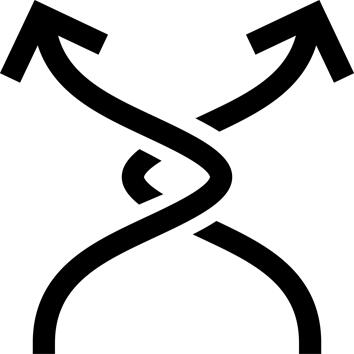 Wide ranging flexibility
Grooves in the forefoot to help you change direction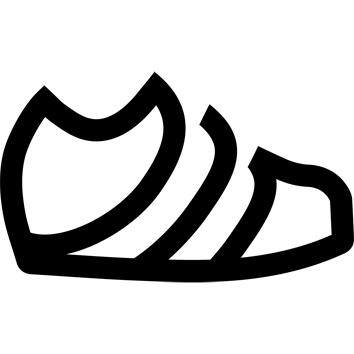 Fit
Adjustable straps ensuring forefoot support for lateral movements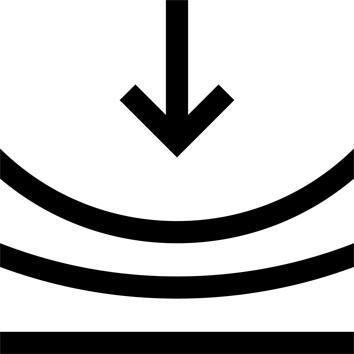 Cushioning
The sole's density absorbs impacts to protect your body when jumping
TECHNICAL INFORMATIONS
WHY WEAR FITNESS SHOES?
Studies carried out at our Sportslab have shown that fitness and other sports involve a whole host of different movements. Movements such as twists, skaters, tuck jumps, squats and lunges all come into play. Unlike running, which uses mainly linear movements, fitness activities involve hardly any linear movements. Our shoes are all designed to help you perform these movements without the risk of getting injured.
---
Doing fitness in running shoes (or vice versa) isn't a good idea
Wearing suitable shoes for fitness reduces the risk of injury by 20% compared with people who wear running shoes.

But why? Our research and development lab has demonstrated specific ways that the foot moves in different sports: a straight stride when running, versus rotations during fitness activities. Wearing the right kind of shoes for your sports activity protects your feet and boosts your performance!
---
DROP: height difference between the front and back of your foot
All of our fitness shoes have a 4mm drop. The feeling you get with this 4 mm drop is closer to that of your natural foot position (barefoot = no drop). It's important to bear in mind that, if you're used to wearing shoes with too much drop, such as high heels, it will take some time to get used to your new shoes..
---
MULTI-DIRECTIONAL FLEXIBILITY
The multi-directional flexibility refers to how well a shoe flexes and twists to support direction changes.
Studies have shown that we need 1.7 times more flexion and extension for fitness activities than for running. The ankle's movement also varies depending on the kind of fitness or running you do. That's why we've created multi-directional shoes specifically for fitness.
---
FOREFOOT SUPPORT
Why is it important? Good forefoot support - a must for fitness - helps you stay balanced when you go to change direction.
---
FOREFOOT CUSHIONING
The cushioning is the ability of the shoe to cushion impacts and dampen vibrations.
The main point of impact between the foot and the floor during fitness activities is at the forefoot, whereas for running the impact is at the heel. We design our shoes with optimal cushioning at the front to support your body during repeated impacts, while also stabilising your supporting leg for stringing movements together more smoothly.
---
Grip and rotation
This model's grip lets you change direction quickly and easily, while the pivot zone has less grip so you can turn and spin easily without pressuring your joints.
Finding a balance between these two needs is therefore essential. A combination of sensory, mechanical and biomechanical tests has allowed us to determine the right level of grip and which part of your foot is in contact with the floor as you pivot.
---
How do we prove it? Product test
In our labs, our researchers analyse movements using sensors that precisely measure the human body's reactions. But because nothing is as good as tried and tested experience, we've also tested our products in gyms where they'll actually be used. We use these tests to create technical and affordable products to keep you doing sport safely and comfortably.
---
The bonus is no marks on the floor
Our sole has been designed to leave no marks on the floor.
---
Can you run on a treadmill wearing fitness shoes?
Our fitness shoes have been specially designed for cardio fitness. They are also suitable for limited running on a treadmill.If you want to warm up/cool down before/after a session on a treadmill, these shoes are just what you need.
However if your sole exercise is running on a treadmill or outdoors, for safety reasons it is highly recommended that you wear shoes designed for running.
---
Fitness shoes, are they exclusively for indoor use?
Cardio fitness is mainly done in gyms and/or at home. Our shoes have been designed for indoor use.
Rubber is specially suited for indoor use as it is softer. Wearing these shoes outdoors on tarmac will cause premature wear to the rubber. The grip of our soles is tested based on the floors used in gyms or in your home, and rubber is designed to be more grippy when used in these places.
---